Tommy Cash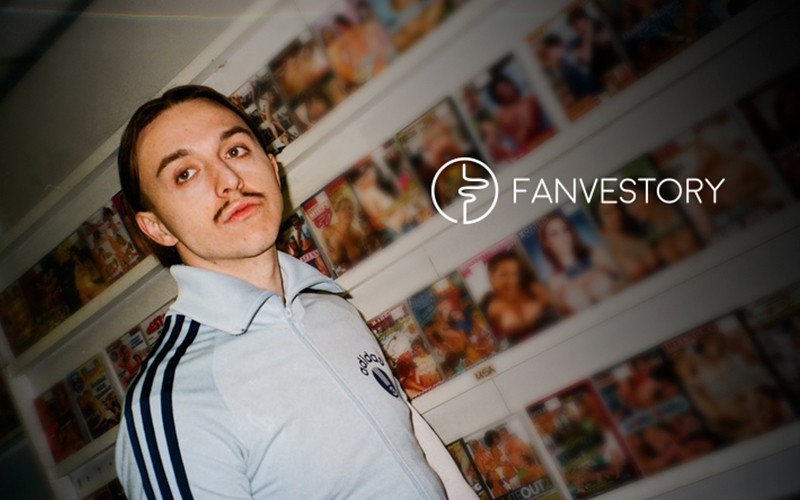 Tommy Cash will launch his next song in June 2017 and you have a unique opportunity to buy a share in this song! Tommy will use the money to produce a video, which we all know is going to be… you know. Just listen to the intro, buy your share and wait until June!
Disclaimer: Fanvestory cannot guarantee that the value of the song is going to be 60, 000 EUR – it might be more, it might be less, as Tommy has previously given out his music to the fans for free. In total, his last album was downloaded 244,000 times, but the fans could buy it, if they wanted to – about 25,000 of them did! The new song and album will not have free download option. Within the last year Tommy has gone viral and we believe that his popularity will grow even more.
However, we can guarantee that when you buy a share, you will get your fair percentage of revenues! Here's why we think you might be interested:
1. Tommy Cash is still an independent artist, who has turned down all the proposals from big record labels and music publishers. It means that this is a really exclusive deal: as for now, only Fanvestory (you!) will get a share in this song!
2. This is a very rare deal, because you will earn money from everything: the composition (concerts, radio, TV, film, commercial, internet streaming), the phonogram (CD sales, internet downloads, internet streaming, radio, TV/film/commercial synchronisation, samples, etc.), and synchronozation (movies, TV shows, commercials, etc.).
3. Tommy Cash has become one of the biggest social media stars among all Estonians: he has ~125, 000 followers in Instagram and his latest post's organic reach was ~1,5 million worldwide.
4. Tommy's last album was downloaded over 244, 000 times.
5. Tommy has exponentially grown his audience numbers in various markets where digital downloads are booming (Russia, Japan).
6. He has earned ~35, 000 EUR from digital channels only in the last two years.
7. He has ~90, 000 subscribers in YouTube channel and his "Winaloto" video has been watched 3,4 million times.
8. Tommy was recently interviewed by
i-D magazine
in the US. The article was shared with the magazine's 6.5 million followers on Facebook:
9. Global festival announcements for 2017 coming up in two weeks! These will be major ones!
10. The new song will be launched in June in over 50 digital channels worldwide!
What is offered:
20.00% of the project's revenues
Users can buy:
0.0167% - 0.2417%
Revenue sources:

Concerts

Radio

Streaming

Television

Sync

Earning period:
10 years
More info:
Read FAQ
Artist statistics:
| | | |
| --- | --- | --- |
| | Youtube plays | 10.5M |
| | Youtube subscribers | 90k |
| | Soundcloud plays | 785k |
| | Facebook likes | 54k |
| | Instagram followers | 125k |
| | Album Euroz Dollaz Yeniz downloads | 244k |
#Update Tommy Cash is currently going through negotiations of a big publishing deal and this is why "Nosebleeds" video hasn't been released yet. Tommy promised to get the video out after the publishing deal is closed, but no later than the end of August.
#Update Have you checked his schedule this summer? This is crazy! Thumbs up! :)

09.06 Finland, Helsinki Sideways Festival
15.06 Spain, Barcelona Sonar Festival (SonarHall)
16.06 Netherlands, Tilburg Best Kept Secret (Stage 5) 22.06 Estonia Pühajärve Festival ...
23.06 England, Glastonbury Festival (The Blues Stage)
24.06 France Marseille Marsatac (Second Stage)
30.06 France Marmande Garorock (Trec Stage)
01.07 Denmark, Roskilde (Arena stage)
07.07 Slovakia, Trencin Pohoda Festival (SLSP Arena)
08.07 Estonia, Tallinn Õllesummer (Main stage)
14.07 Romania, Transylvania Electric Castle (Second stage)
15.07 Mägede Hääl, Estonia, Ida-Virumaa
21.07 Estonia Valgeranna Festival
22.07 Austria, Wiesen Out of the woods Festival (Second stage)
29.07 Lithuania Galapagai Festival
12.08 Estonia Estonian Hip Hop Festival (Main stage)
18.08 Germany, Hamburg MS Dockville (Maschinenraum Stage)
19.08 Netherlands, Biddinghuizen Lowlands (X-Ray stage)
25.08 France Lyon Festival Woodstower
08.09 France Plessé Festival Tribus Dailleurs (Alpha Stage)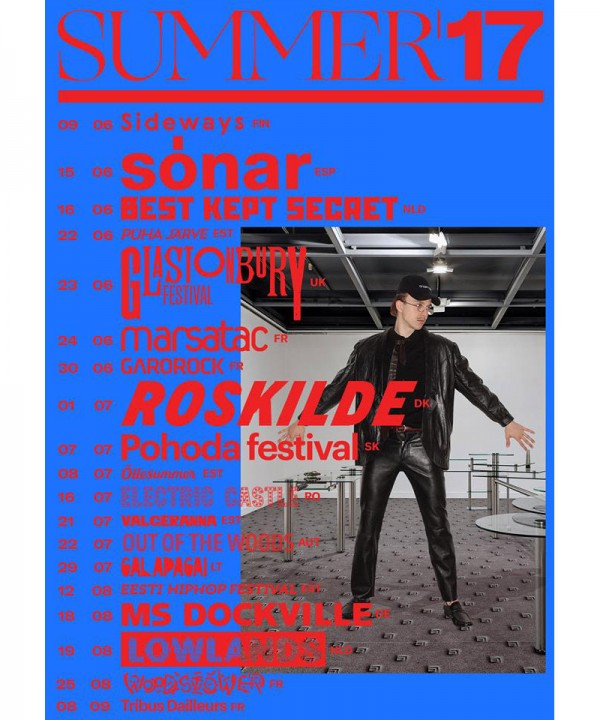 Supporters (192)

Rain Rannu

20€

Endrik

25€

Hille-Juta Laupmaa

100€

Priit Sarv

20€

Rivo Kinsigo

20€

Andrus Asavi

100€

Mark Voronov

20€

Merike

40€

Hendrik Meier

20€